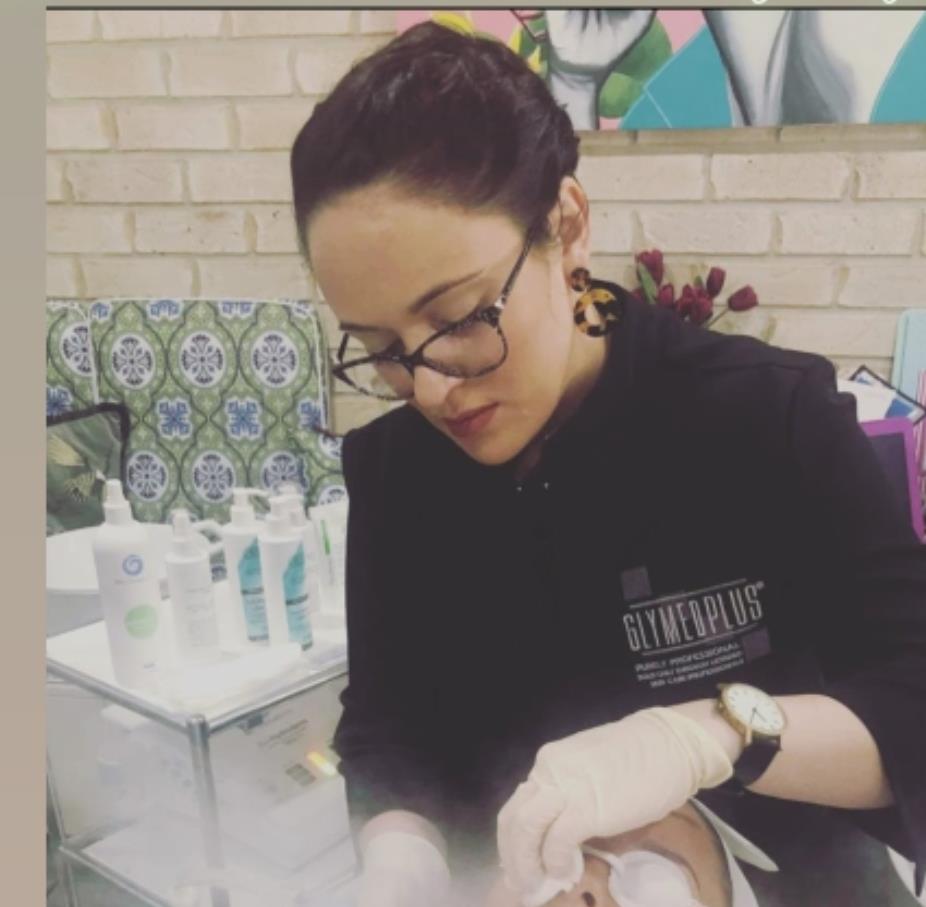 Glow Skin Studio
With over 55 years of experience between us as licensed skin therapist's, We possess extensive knowledge and valuable resources which allow us to provide exceptional skincare services. Our curated collection of professional products range from medical grade skincare, to natural, plant based "green beauty". We offer this diversity so as to cater to all needs and preference. While our hands are our primary tools, We use appropriate various modalities to achieve advanced results such as skin tightening, pore refining, textural resurfacing, tone enhancement, collagen induction and optimal health of the dermis. The services we provide are unique, and are conceived from information obtained during a thorough skin analysis, and through concise communication regarding your needs and overall goals for your skin. There's something powerful about the confidence that a clear, glowing complexion imparts on someone… we want to give that to you!
Glow Skin Studio
Sarah♡ NOT CURRENTLY TAKING ON NEW CLIENTS

Owner/ Operator - Tue am, Wed am, Thur pm, Fri pm

Over 15 years as a Skin Therapist and Paramedical Laser Technician, Trainer & Senior Manager in the Cosmeceutical industry, Our Acne Expert, She has developed the intuitive ability to find the root of most skin care issues. Not only will you feel more knowledgeable about your overall health and well-being, you will enjoy a tailored treatment whilst experiencing a calm uplifting & peaceful treatment.

Michelle♡

Senior Dermal Therapist Tue pm & Weekdays 9-5pm

Michelle has been a Certified Registered Dermal Skin Expert for 35 years! Our Anti- Ageing Expert. She is passionate about empowering and instilling confidence in others by helping them feel and look their very best. Her meticulous and detail oriented skills are key to her clientele's consistently high satisfaction. Her clients are her number 1 priority and this shows with her huge following that she has built everywhere she has ever worked.

Tayla ♡

Senior Dermal Therapist Thur & Fri pm + Saturdays 9-4pm

An expert at gifting the glow. Tay is expanding her expertise and completing a Bachelor of Nutrition with the ultimate goal to become a Dietician. As she is connecting the dots between skin health, wellbeing & nutrition she brings us so much valuable information in this department. Tayla is an animal lover & loves a giggle. We love her calm nature and I bet you will too. She is highly invested in your skin's journey and will also allow you a peaceful and quiet treatment at the same time.

Carly

Kahuna Massage & Reiki Therapist

I've always been deeply fascinated with how the body stores emotions from our life experience, from watching people in movement in there training session with me, seeing the slightest movement in them that tells me there is something more going on. I've learnt this beautiful massage kahuna, where I now can be blessed with someone's body on my table, to have them fully be able to relax and let go, which takes them from there head into there body which allows the healing to begin!
Glow Skin Studio
Glow Skin Studio
15 palall cresent, 4055, Ferny hills, Ferny hills, QLD, 4053
0
Monday

Tuesday

Wednesday

Thursday

Friday

Saturday

9:00am - 5:00pm

9:00am - 7:30pm

9:00am - 5:30pm

9:00am - 8:30pm

9:00am - 8:30pm

9:00am - 4:00pm